FAISALABAD: Pakistan Muslim League (PML-Q) Leader Chaudhry Pervaiz Elahi has advised all the parties to forget the Dawn Leaks and focus instead on the Joint Investigation Team (JIT) of Panama case.
Addressing PML Workers Convention in Faisalabad, Pervaiz Elahi said that the rulers are traders who made money even in the Ashiyana Housing Scheme. He claimed that the government's claims about the end of load shedding are also lies. He added that consumers were being provided electricity at Rs 18 per unit.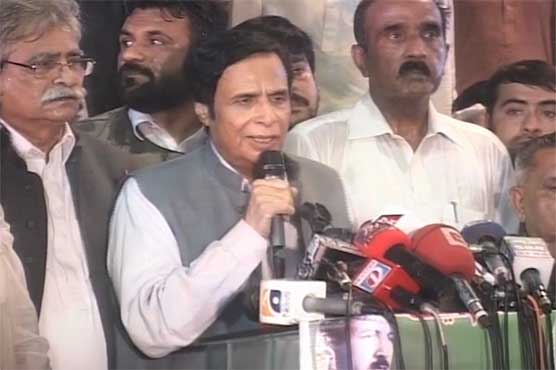 Pervez Elahi said that Kalabagh Dam must be made and it can be renamed to Pakistan Dam if someone has a problem with the name. He announced that PML would provide free electricity to the farmers when in power. He claimed that half the bill of the tube-well was borne by the government during his tenure.
He added that Kalabagh Dam will help everyone and Sindh will have surplus water. He said that all others were lying on Kalabagh Dam. He said that Bhasha Dam would take 12 years to complete while Kalabagh Dam could be made within 6 years only.
He claimed that factories were running during his tenure while they have been shut down today. He added that one of PML-N minister from Faisalabad was the mastermind of Model Town tragedy in 2014.
Pervaiz Elahi challenged that there were more development works in his tenure than Shehbaz Sharif's tenure. He added that the only thing rising in the country under the current government was number of robberies and suicides.